Brennenstuhl
Telescopic Aluminium ladder - 4 x 4 tread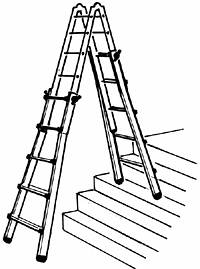 Telescopic ladders.
This Foldable Telescopic Step Ladder is 3 products in one.
A straight ladder, 'A' frame ladder and stairwell ladder for uneven surfaces.

The well proven Brennenstuhl hinges enable the ladder to be
modified from a straight ladder to a stepladder within a few seconds.

Easy and safe rung-by-rung height adjustment.
Can be irregular on each side to accommodate stairs or uneven surfaces

Exceptionally compact for easy transporting and storage.
Side rails and rungs of aluminium.