simply replaces existing wall switch - no neutral wire is needed.
It fits into a plaster depth (16mm) wall box.

The WAOC model also has a manual override off switch on the front of the plate.
Time lag range:
10 seconds to 40 minutes in 9 steps
Photocell range:
100 to 1000 lux, and inactive.
Loading:
Loading : Any type of load up to 6 amps (including fluorescent lights and fans)
The minimum load for the WAOC is 60W of resistive load and 100W of fluorescent loads (The minimum wattage is 60W of resistive loads and 100W of fluorescent loads per WAOC if wired in parallel).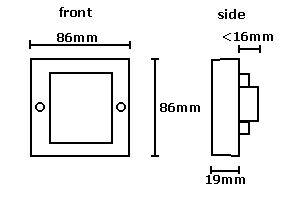 Detection Range for PIR Wall Switches and Ceiling Directional
Plan View