Power Showers All in One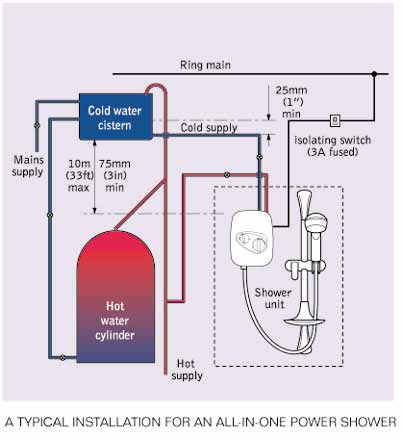 Click the image for a larger version in a new window
Power Shower
Site Requirements - Electrical
The pump must be permanently connected to the electricity supply via a double pole isolating switch with a minimum contact gap of 3mm in both poles. The switch must be readily accessible but out of reach of a person using a fixed bath or shower, except for the cord of a pull cord operated switch. The wiring must be connected to the switch without the use of a plug or socket outlet. The supply cable selected for installation must conform to the relevant table in the I.E.E. regulations. To enhance electrical safety a 30mA RCD (Residual Current Device) should be installed in all UK electric and pumped shower circuits. This may be part of the consumer unit or a separate unit.
This Installation Must Be Earthed
Site Requirements - Water
To ensure correct operation the pump must be connected to a cistern fed supply of hot and cold water at nominally equal pressures. The pump must never be connected to the mains cold water supply. The cold water cistern must always be above the pump to ensure priming of the unit (see diagrams for details). The hot water storage cylinder and cold water cistern should each have a minimum storage capacity of 114 litres in order to ensure adequate infill rate. If supplying a number of outlets, it is recommended that the cold water cistern should have a minimum capacity of 230 litres in order to ensure adequate infill rate. Both hot and cold water supplies to the pump must be dedicated and separate from any other outlets or connections.
Water Connections
Inlet Connections:
15mm push-in fittings
Rising, falling and rear entry water supplies
Outlet Connections:
Threaded 1/2" BSP
Top, bottom and rear cable entry points
Pump Motor Specifications
Single impeller pump
Rating - 50Hz, 230/240V, 150W, single phase, recommended duty cycle 15 minutes on, 45 minutes off
Automatic resetting thermal overload cut-out
Flow Rate: up to 14 litres per minute
Pressure: Maximum pressure at maximum flow 1.2 bar equivalent to a 12.6 head of water
Materials of Construction
Acetal, nylon and ABS
| | | |
| --- | --- | --- |
| Dimensions (mm) | | |
| Height 268 | Width 206 | Depth 138 |
Product Approval
Designed to comply with Water Fitting Bye-Laws Scheme operated by The Water Research Centre
Power Shower Packs and AS2000T only: thermostatic performance designed to conform to British Standards
Designed to comply with the latest product electrical safety standards
Company Approval
Triton is registered by The British Standards Institute and all Triton products are designed, tested and manufactured under Quality Management Systems certified to BS EN ISO 9001 : 1994 and Environmental Management Systems approved to ISO 14001.
Guarantee
All in one power showers and power shower pack pumps are covered by a 12 month guarantee (power shower pack mixer valve has 3 year guarantee) from the date of purchase. For a small premium this can be extended to 3 to 5 years (for full details please see the warranty application form included in every Triton shower pack).
Installation
Installation should be carried out by competent tradesmen in accordance with the detailed fitting instructions (supplied with every unit) and Water Regulations and Bye-Laws. A copy of the fitting instructions is available on request from the Customer Service Department if it would help when planning your installation.
Trade Installer Hotline
Trade installers can phone a dedicated hotline on 024 7632 5491 for immediate technical advice on installation, and to ensure product suitability for commercial and multiple installations.