Pro's Page
Author: John English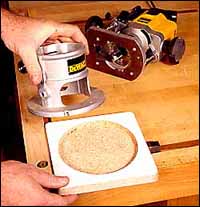 Discover how to make a custom router table insert below...
A stand-alone cabinet is perhaps the most desirable arrangement for a router table. It provides storage space for extra routers, bits, bases and wrenches, plus it's heavy enough to be stable. Such a unit can be custom built to suit your own height (it should be half as tall as you are), and it can be fitted with casters to make better use of limited shop space.
There are several portable tables available commercially, but their biggest drawback is a small tabletop (a real pain when you're working on a large project). And because they're portable, they're inherently lightweight, so stability can be an issue.
One ingenious option I've always found attractive is a table attached to the underside of an open bench. By mounting it on full-extension, heavy duty drawer slides, it can be pulled out during use and pushed out of the way when the job is done.
My favorite placement option is to build the router table as an extension of the table saw table. This allows me to use the saw's expansive top for support, take advantage of an already installed dust collection system, use the fence system on the saw as a fence for the router, and even employ the saw's miter gauge in certain operations. A router table can easily be added to the DW746 table saw inset boards for the 52" rail system.
Select the Right Stock for the Top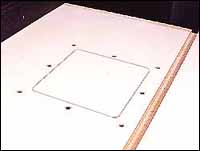 Plastic laminate is an ideal surface for router tables, and light colours are very desirable as they make the workpiece more visible. They also allow you to make pencil marks indicating start and stop positions for cuts. Shown here is a white laminate top with a new insert waiting for a router.
A router table has to be flat, smooth, slick, stable and the right colour. Flat and smooth are obvious, but slick? You must choose a tabletop material that will allow workpieces to slide easily against both the table and the fence, creating the least possible amount of friction. If the action is retarded, each pass will be too slow (which results in burning by the bit), or uneven. This can even be dangerous, as a novice may try to compensate by pushing too hard or too quickly.
The top has to be stable: that is, it must remain flat (without sagging) for several years of use. This can be a challenge on larger tables without center support, so make sure it's thick enough. Your tabletop also should be a light color (preferably white), so the workpiece is easily visible. Many commercial tables are a dark grey or black colour, and stock like walnut tends to visibly merge with this background (especially for old guys like me whose eyes are already questionable!).
The ideal tabletop is a medium density fiberboard (MDF) substrate covered with plastic laminate like Formica™, or a thinner material such as Melamine™. Make sure you cover both faces, to equalize tension and avoid warping. And to make it smooth, sand the top with 400 grit wet/dry paper. The first time you do this, it's a little unnerving to sand brand new laminate!
After sanding, use a tack cloth to clean the top. Then make it slick by rubbing in a coat of clear shoe polish. Buff the shoe polish for an incredibly smooth, slick surface that won't rub off on your unfinished wooden workpieces.
Use Your Saw's Mitre Gauge
Whether you build a separate, free-standing unit or incorporate a new table into the table saw, take advantage of the saw's miter gauge to add versatility to the router. By plowing a groove in the top (shown at left), you can drop the mitre gauge into it (right) and make very accurate crooscuts and end cuts on small stock.
Mounting the Router
There are three ways to mount your router in your new table. You can simply drill three holes and screw the tool's base plate to the underside of the table. Or you can buy and install one of several over-the-counter options (shown below, left photo). But the most satisfying choice is to make your own. The below instructions are ideal for a smaller router. If you plan to mount a larger router, you may want to increase the size of your insert.
Begin by cutting a 6-1/2" circle in the center of a 12" square piece of tabletop material. This is easily done with a jigsaw or scroll saw. Next, cut an 8" square hole in the top of your table: drill the four corners with a 3/4" Forstner bit, then jigsaw the straight lines.
Center the 12" piece of material under the 8" square hole and screw it in place from underneath the tabletop.

Make an 8" square insert to fit the square hole. Bevel the edges at 5 degrees and sand the corners round to fit. The object here is to make an insert that will simply drop and stay in place, without any screws or fasteners (below, right).
After mounting the router to the bottom of this insert (remove the routers handles to make mounting easier), you should be able to remove and replace the router efortlessly. This makes bit-changing a easy: you never have to fumble around under the table.
Depending on the amount of travel your router has in its base, you may need to reduce the thickness of the insert. Simply place the router on the underside of the insert, draw its outline, and then use the router and a straight bit to remove about half the thickness of the material (see photo at the top of this page). This is a freehand operation, as the edges don't have to be absolutely perfect because it will be hidden from view.
When the router is secured to the insert, place it in the table with a straight bit installed. Turn on the router and slowly plunge the bit through the insert.
Fence Options
There are several options for both shop-built and commercial fences. The most common idea is to make an L-shaped fence that can be attached to the tabletop with a clamp at either end, such as the Woodhaven model shown here (right). Another popular option is to slide the clamps in grooves plowed in the tabletop (shown at left). A third and very simple fence is one that is attached at one end with a pin or bolt that acts as a hinge. The other end is moveable, and is simply secured to the table with a C-clamp. Unfortunately, this latter style precludes the use of a mitre gauge slot.
Sometimes a fence isn't necessary, as when you are routing with a bearing-guided bit. In this instance, it's a good idea to install a starting pin in your tabletop. This is usually made of steel or aluminium, and it's about 1/4"-3/8" in diameter and perhaps 1" long. It can be fashioned by cutting the head and threads off a bolt, or it can be purchased through woodshop catalogues. Drill a 1/2" deep hole in the tabletop about 4" from the bit, to install the pin.
Dust Collection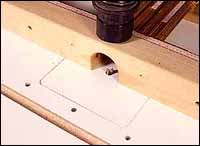 Even if your router has built-in dust collection, adding a vacuum port to the fence is a good idea. Lower dust levels provide a safer, more accurate work environment.
Most shop vacuum and dust collector manufacturers supply ports that can be attached to a fence. These are generally just screwed in place. In the event that you can't find a port, try using a hose-to-hose connector such as the one shown at right. This connector was designed to connect a large hose to a smaller one. We simply drilled a hole in the fence that was exactly the same diameter as the smaller hose. The hole right above the bit for virtually dust-free routering, and if the connector is a friction fit it can be removed in an instant.
One nice option currently available from woodworking cataloguess is an ON/OFF switch for a router that simultaneously turns on the dust collection device. The second outlet (for the collector) is a slow start affair that prevents circuit breakers from tripping too soon.