1 Gang PowerGrid Plate c/w Grid Frame - Screwless Matt Black
Product Code:
VL XDYPGY1SMB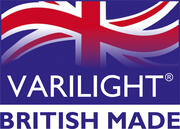 5021575018530
XDYPGY1S.MB
Min Box Depth: Dependent on grid modules being used.
Minimalist design with maximum style.
Matt Black accessories make a strong statement coordinated with dark wall coverings or contrasting with paler shades.
Create your own switch combinations.
Includes plate and grid frame for ease of use.
Fine textured surface.
Dimensions:
86x86x7mm.