2 Wire DURALIGHT






DURALIGHT
Introduction 1
---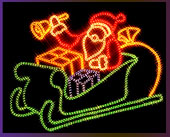 Duralight, one of the best decorative lighting product can truly glow around the world! Duralight manufactres 850,000 rolls (45m each roll) annually. The length of such output is long enough to wrap around the earth equator. Duralight factory. With an area of over 25.000m2 and Over six thousand workers, Duralight Factory constitute most of the production capacity of Duralight. Since Duralight is durable, economic, versatile, and simply beautiful, no doubt Duralight is the most popular decorative light product in the world. Today, we have over 15 series and over 2,000 models for you to choose from. On the building exterior wall, on the city street, in window displays, architectural outlines, don't be surprised to see a piece of Duralight that is lighting just right next to your side.
Structure:
Each type of DURALIGHT has its own size options and unique features. DURALIGHT consists of an inner clear PVC extrusion, enclosing multi-groups of sub-miniature light bulbs, encased inside an outer layer of colored PVC tube.
---
Features:
Flexible and durable enough to be bent into any shape witout breakage (over 60 degree angle).
Impact resistant, and durable against heavy weights (withstands 100kg/2.5cm2 ).Water resistant and sustainable to a temperature range of -20oC to +60oC.
Variation: PVC selection of 7colours available: Red, Green, Yellow, Purple, Orange, Blue, Clear.
UV protecitve: The extrusion of each colored DURALIGHT tube includes protective UV additives meeting recognized international standards. Using the same high production standards.
The method of calculating the consumed power is shown below. i.e. Divide the total length by the bulb spacing to get the total number of bulbs, then multiply by unit power consumption of each bulb to get the total power consumption of specified length.
Take DT611( DL-2W-240) as an example.
360 Total No.of bulbs x (6.5V x 0.07A) =163.8W Total power consumption.


The maximum number of bulbs per power feed:


2 WIRES FIXING DURALIGHT SPECIFICATION:
ITEM NO.
LENGTH
DIAMETER
BULB
SPACING
NO. OF BULBS
BULB SPEC.
VOLT(V)
BULB LIFE
DT 611 -
( DL-2W-240)
30FT/9m
13mm
"/27.7mm
360/324PCS
6.5V/70mA
2V/140mA
120/240
12/24
25,000HRS
150FT/45m
13mm
1"/27.7mm
1800/1620PCS